Appliance Recycling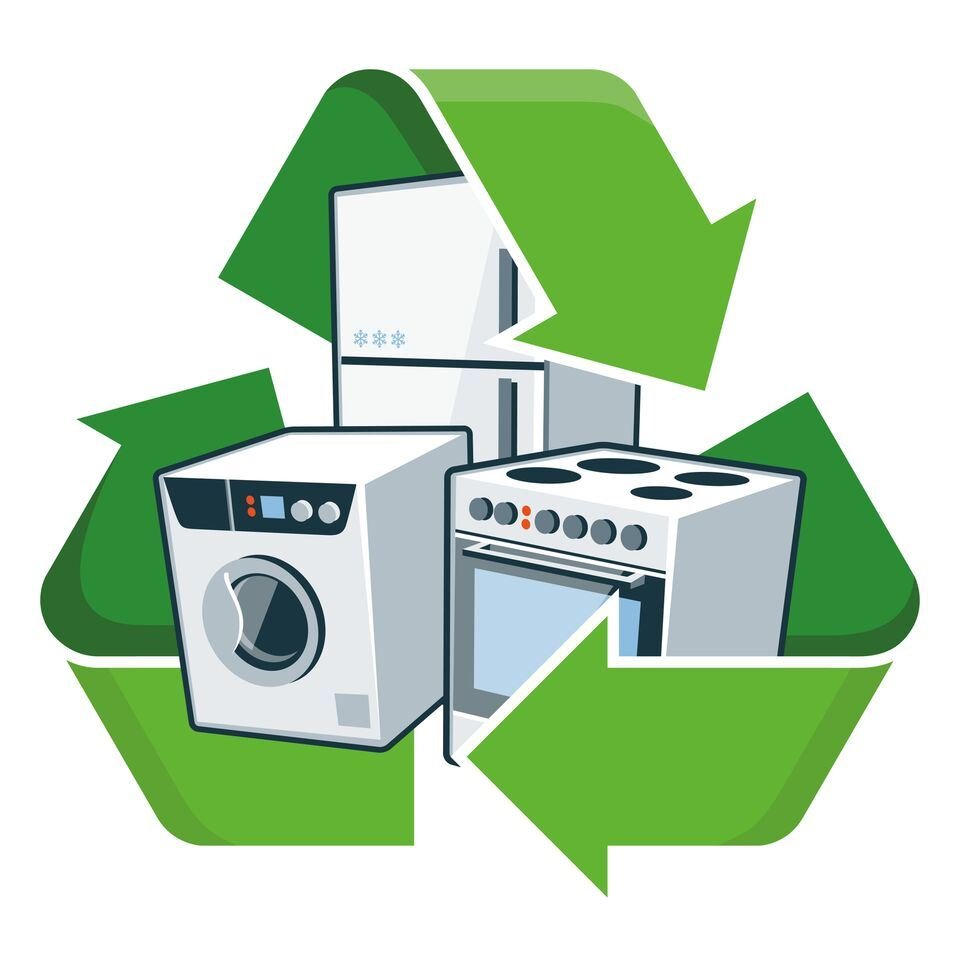 Need appliance recycling service in Las Vegas? Local responsible Appliance Recycling & Removal Service: Las Vegas Hauling Junk & Moving is the preferred service provider for appliance recycling and environmentally friendly appliance removal and disposal in the Las Vegas area! No need to lift a finger because we do all the work. Cost of Appliance Recycling? Free estimates! Call today or book Appliance Recycling online fast!
LAS VEGAS APPLIANCE RECYCLING
If you've ever tried to move a fridge or stove, you know it's a difficult job without help. Aside from the heavy lifting dangers associated with trying to haul a heavy appliance to the dump, improper disposal can also harm the environment. Many old house hold contain ozone-depleting chemicals that disperse into the air when left to break down in a landfill. Taking the proper steps to handle your appliance removal responsibly not only preserves your back health, but the health of the environment, too.
At Las Vegas Hauling Junk & Moving, we're experts in responsible appliance disposal. We've got the inside scoop on proper recycling practices, and the equipment necessary to safely remove your old appliances without you having to damage your back, or your home. And if your old appliance still works, we'll donate it to charity.
One of the easiest ways to save energy around the house is by purchasing energy-efficient appliances. Be sure to recycle your old ones, though, because they're mostly made up of metal.
Large Appliances Recycling Preparation
Unplug your appliance for several days before recycling to let it cool down.
In the case of older air conditioners, freezers and refrigerators, you'll need to confirm whether the recycler removes Freon. If not, you'll need to contact a professional for Freon removal.
If you bought a new appliance and it's being delivered, ask the company if it will haul away your old appliance. In many cases, the truck will accept multiple appliances for recycling even if only one is being delivered.
If you're getting rid of a still-working product that is less than five years old, consider donating it. Habitat for Humanity operates Restore locations throughout the U.S. that sell building supplies to raise money for new houses, and they will often accept newer, working appliances.
Tape any doors with masking or duct tape so they don't fly open during transport.
If you need to transport the appliance to the curb or a truck, use a dolly. Large appliances are far too heavy for one person to carry them.
WHY RECYCLE LARGE APPLIANCES
Steel (the most recycled material in the U.S.) makes up 75 percent of the average appliance, and home appliances account for 10 percent of steel recycled in the U.S. each year.
Refrigerators and air conditioners use fluorocarbons to chill air, and chlorofluorocarbons (CFCs) are a leading contributor to ozone depletion. CFCs are released from a trashed refrigerator but will be safely processed by a recycler.
Many utility companies will provide you with a credit to buy a new appliance and recycle the old one, not to mention the money you'll save on your monthly bill.
Refrigerator Recycling $50
Appliance Disposal Near Me
How To Get Rid Of Old Appliances For Free
Who Will Pick Up Old Appliances For Free
Free Haul Away Appliances
Appliance Recycling Near Me
Las Vegas NV Appliance Recycling near me
Boulder City NV Appliance Recycling near me
Enterprise NV Appliance Recycling near me
Henderson NV Appliance Recycling near me
North Las Vegas NV Appliance Recycling near me
Paradise NV Appliance Recycling near me
Spring Valley NV Appliance Recycling near me
Summerlin NV Appliance Recycling near me
Sunrise Manor NV Appliance Recycling near me
LAS VEGAS HAULING JUNK & MOVING
REQUEST FREE INFORMATION NOW. CLICK HERE!