Appliance Hauler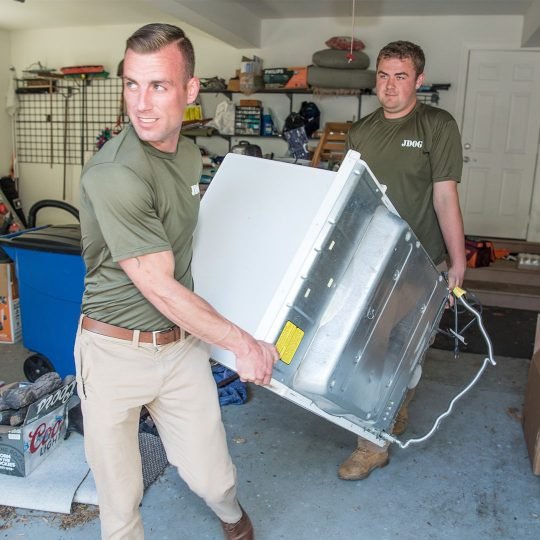 Looking for junk appliance hauler in Las Vegas NV? Appliance Removal. We take Refrigerators, Freezers, Stoves, Dishwashers, Washers and Dryers, and AC units. We will properly remove all Freon to help preserve the atmosphere. Las Vegas Hauling Junk & Moving will ensure that all items hauled away will be recycled or disposed responsibly. No Hassle! Cost of Appliance Hauling? Free estimates! Call today or schedule Appliance Hauler online easily!
LAS VEGAS APPLIANCE HAULER
 Do you have an appliance that you need help getting rid of but aren't sure how to go about it? Let Las Vegas Hauling Junk & Moving in Las Vegas help! You may already know that this isn't easy to do by yourself. Las Vegas Hauling Junk & Moving has years of experience removing appliances of all shapes and sizes. We know what it takes to get the job done right and we have the manpower and trucks to do it!
Often times, appliance pickup requires a professional due to the heavy lifting dangers involved. Most large appliances weigh quite a bit and are quite cumbersome to remove. Put that together with the fact that the environment can be harmed if the appliance is not disposed of properly and removing it on your own becomes quite a problem. Older appliances that are taken to the landfill contain chemicals that can cause damage to the ozone layer. When left to break down, those chemicals go into the air. Without proper disposal of the appliance, the risk of damaging the environment can be high .
Taking the appropriate steps for appliance removal and disposal will not only preserve the health of your back but will also protect the environment and your community as well. By scheduling an appliance pickup with Las Vegas Hauling Junk & Moving you can count on a professional to safely remove that old appliance. We will make sure it gets disposed of properly and in the event that the appliance still works, we will donate it to charity.
Air Conditioners
Dishwashers
Clothes Dryers
Refrigerators
Freezers
Drying Cabinets
Stoves
Microwaves
Washing Machines
Trash Compactors
Water Heaters
Keep in mind that Las Vegas Hauling Junk & Moving specializes in more than just appliance pickup, removal and disposal. We are experts in junk and trash removal in Las Vegas. We know that next to death and taxes, one thing's for sure – we've all got too much junk. We are a locally owned and operated cleanup and junk removal service specializing in helping you get rid of that trash! Simply give us a call for an over the phone quote or click here to schedule a pickup online.
With the average American producing about 4.4 pounds of garbage per day (that's 1600 pounds of garbage every single year!) you could form a line of filled garbage trucks that would reach the moon with just the trash that we produce in this country alone! Got trash? It's time to call Las Vegas Hauling Junk & Moving!
Free Appliance Removal
Free Appliance Removal Near Me
Who Will Pick Up Old Appliances For Free
How To Get Rid Of Old Appliances For Free
Free Appliance Pick Up Near Me
Who Will Pick Up Used Appliances For Free
Las Vegas NV Appliance Hauler near me
Boulder City NV Appliance Hauler near me
Enterprise NV Appliance Hauler near me
Henderson NV Appliance Hauler near me
North Las Vegas NV Appliance Hauler near me
Paradise NV Appliance Hauler near me
Spring Valley NV Appliance Hauler near me
Summerlin NV Appliance Hauler near me
Sunrise Manor NV Appliance Hauler near me
LAS VEGAS HAULING JUNK & MOVING
REQUEST FREE INFORMATION NOW. CLICK HERE!